Medical record retrieval is an important step after a car accident. In the United States, medical records are required for insurance claims, court trials, and other procedures. As a lawyer or insurance provider, it is, therefore, imperative that you know the right way to get the appropriate medical records from the hospital or your client's doctor.
Medical records are needed to do the following:
Reveal the severity of the client's injuries after the car crash
Prove that the injuries are enough to prevent your client from going to work
Prove that the injuries were indeed caused by the accident
When retrieving medical records, make sure to keep these in mind:
#1. Know where to get the records from
Before you begin, keep in mind that speed, accuracy, and efficiency are all crucial. You may not have a lot of time to collect all necessary documents. Make sure all the information in your client's records is accurate, lest you end up repeating the same steps.
To keep the process smooth, you need to know where to go or whom to approach to get the right records. In particular, know which office and individuals are in charge of maintaining and distributing the hospital's records.
Hospitals often get requests from multiple parties for medical records, so it may take some time before you receive the documents you're requesting. Because of this, it's crucial that you process the retrieval as early as you can.
#2. Take note of the right bills
For your client to receive the proper compensation, their insurance claim must declare exactly how much money they spent because of the accident. Keep in mind that hospital bills are different from emergency room (ER) bills. If your client went to the ER because of the accident, be sure to ask for both the ER bill and hospital bill.
#3. Get all pertinent records
Gather all records of your client's visits to their doctor as a result of the accident. Besides records of their treatment in the ER, logs of subsequent visits, treatments, and follow-ups must be among your priorities. For example, if your client had to visit their primary care physician for body pains caused by the accident weeks after the crash happened, you need to collect records of that, too.
Other necessary documents include records of tests performed on your client. These include X-rays and MRI scans. You must also include records of physical therapy and chiropractic care sessions your client attended while recovering from their injuries.
Should you get a medical record retrieval service?
In many cases, retrieving medical records for your client is a lengthy and difficult process. It demands time and patience, as well as familiarity with the different steps and requirements involved. Soliciting a professional record retrieval service's assistance could help make the process much easier.
These vendors are professionals who know the ins and outs of record retrieval. Thanks to their years of experience, they know what you and your clients need, where to get documents, and how to complete requests in the timeliest and most efficient manner. Furthermore, they are bound by data protection regulations, so you can be sure that your client's information is adequately protected from data thieves and other malicious parties.
If you want to save time, then getting a record retrieval service is the way to go. Here at Record Retrieval Solutions Solutions, we'll make it as easy for you as possible. Just send us your client's medical records request information through our secure online portal and we'll handle the rest, leaving you free to focus on your clients and providing them with the best possible service. Contact us today to get started!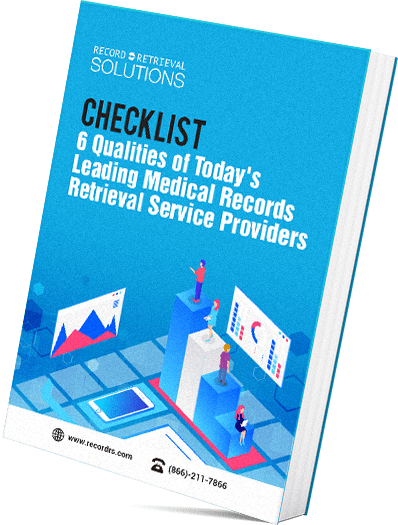 Trying to decide on a Medical Records Retrieval Provider?
We know it can be a real challenge to find the ideal service provider you can trust to send out your firm's medical records requests and deliver records securely, quickly and efficiently. Our FREE checklist will help you identify what qualities you should look for before making a decision.
Download now!